Well, it appears that a lot of people are getting their bathrooms remodeled this spring (lucky dogs). Adentro Designs recently finished a bathroom remodel and is gearing up for two more! As I research all of the luxury to be had it makes me drool a little and I am definitely pea green with jealousy.
Here are some fantastic bathrooms I found online at Decor Pad:
Here are some tips to makeover your bathroom without breaking the bank:
1. Remove the standard builder-grade mirror and replace with a decorative mirror. Or you can always have the existing mirror framed with a Mirror Mate frame (for more information and to take advantage of my wholesale pricing on these frames, call me 512-689-8302)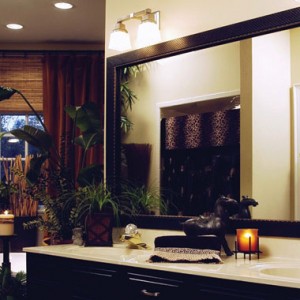 2. Can't afford new cabinets? Why not paint your existing cabinets with a fun design, like above, or try something a little simpler like this: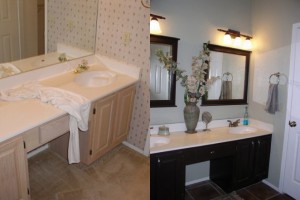 3. For the love of all that is holy, please change out those brass, Hollywood-esque light fixtures and remove anything brass, STAT!!! There are a ton of affordable options for light fixtures at your local hardware stores or my fav site Lighting New York.
4. Cabinet hardware, cabinet hardware, cabinet hardware. This is a detail that is often overlooked. I recommend hardware to almost all of my clients! Think about mixing and matching your hardware. You could use knobs on lower cabinets while using a pull on the drawers.
5. Why not consider using a non-bathmat in your bathroom? I love to use area rugs in bathrooms. Anyone can buy a fuzzy toilet seat cover and matching toilet rug but why in the world would you? Spice it up!
6. Opt for towel hooks in lieu of towel bars.
7. Buy a new faucet. You can get a nice faucet from Lowe's for like $35. Do it!
8. Have an ugly counter top? This one is hard. You could spend money to have it refinished by a company like ReBath, but it might be a wise investment to have a new top installed (granite, cultured marble, solid surface, etc.)
9. Accessorize minimally. You can find jars and fill them with soap, cotton balls, q-tips, etc.
Nothing ground-breaking here, but for someone out there this just might be the motivation needed to take their bathroom from drab to fab!